MARK 11 visual types
"Amee", "Elel", "Gidoa", "Jany", "Lama", "Osil", "Prohud", "Qhe", "Ryoho", "Yaxn", "Zeas"



Introduction to MARK
by Figure31 in collaboration with (GALLERY)

As Yves Klein showcased "The Void" in 1958 at Iris Clert Gallery in Paris, the MARK exhibition on GALLERY will eventually disappear and leave behind an empty web page. As they're acquired by different individuals and leave the artist's wallet and gallery, simple images will become identities in possession of others. Choosing one image over another is an act of becoming.

To understand an image is to know how a fictional identity is born in a viewer's mind. Through landscapes and portraits, "I" manifests, "I" imagines, and "I" embodies. Our fingerprints result from incommensurable genetic odds; MARK's digital fingerprints result from arbitrary computer generations and fictional identity markers.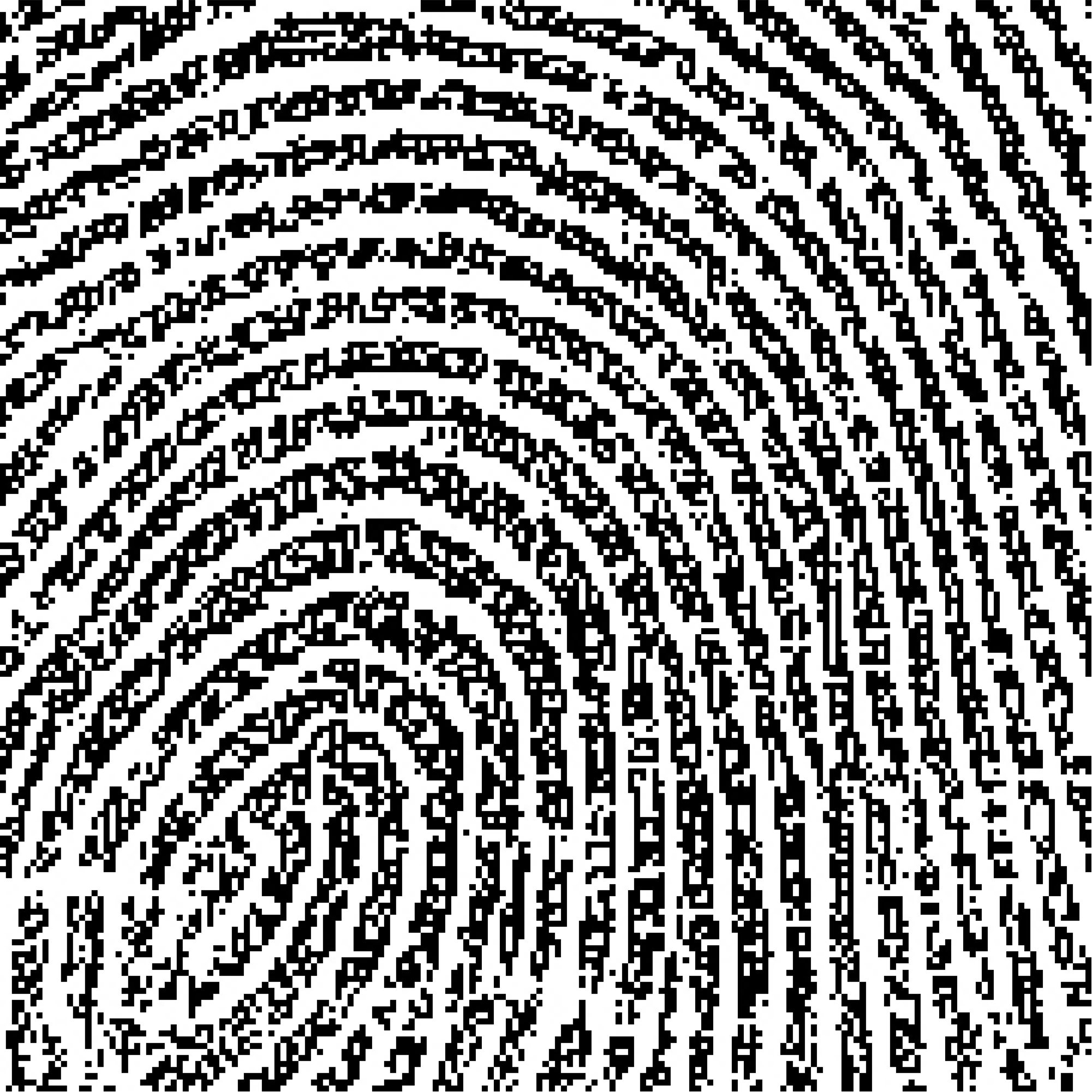 "Ror"

MARK's images exist between two states: the first one being a simple black and white texture, the second being derived from the content of the images. As we've seen over the last year, possessions and illustrations have a solid potential power to become more than just an arbitrary assemblage of colours and lines. The 500 assets of the collection can potentially become individual voices, a chorus—self-determination through fixed visual parameters and a shared language.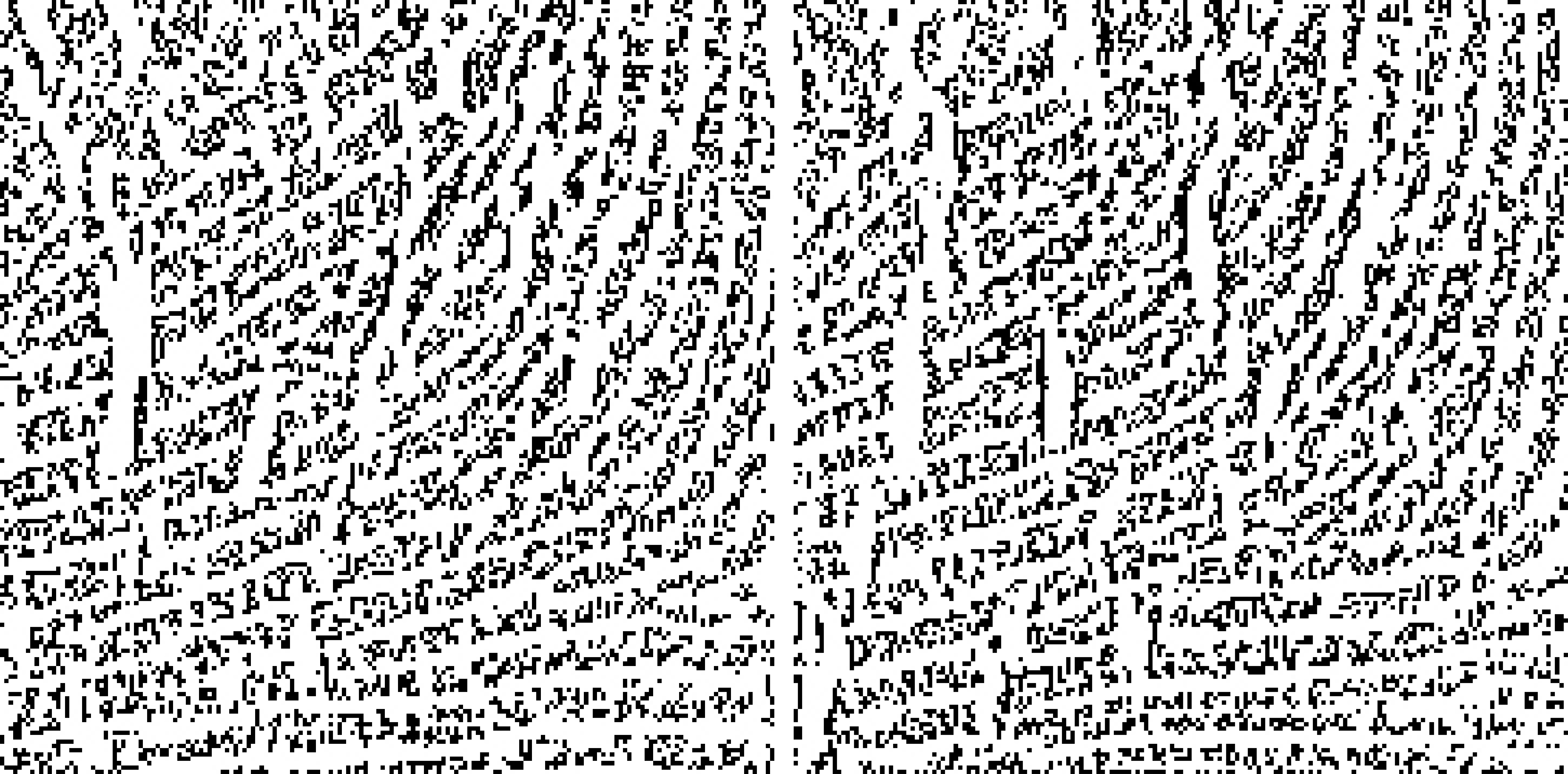 "Zevlov", "Zyunn"

The 500 images of MARK are GAN-generated fingerprints rendered in the shared visual language of blockchain aesthetics: pixelation. All images are binary, black and white, originally 180 by 180 pixels, interpolated to 2000 by 2000 pixels. They are coupled with names generated using a deep learning algorithm and a list of shortened common names. There are eleven "visual types" of fingerprints, each differentiated by a specific first letter of said generated names. Each image has been analyzed, and inside the asset's metadata, collectors can find a "fill ratio" attribute; the percentage of black pixels on the canvas. Finally, all assets are ranked by their rarity with a "uniqueness grade."

These images exist as standalone artworks, but they also serve another purpose. Anyone who collects five of these images can claim a set of five silver 925 rings. Each set of rings is engraved with an Ethereum wallet, its private key, and an ENS domain name. There are only 42 of these ring sets available. Collectors who claim these sets become the owners of these wallets and the ENS domain inside them: ring1.eth to ring42.eth. The artist manually engraves all rings to avoid leaking confidential information to any other party.




"Erin", "Eje", "Evis", "Elel", "Ehi"

To claim these sets, collectors must contact the artist and provide proof of ownership in the form of an empty transaction sent to the artist's wallet containing a unique code. Rings will be shipped to collectors once that process is completed.

The rings link every owner to the artist to further expand the sense of collectivity. Collectors claiming these rings will be put in a position of trust and vulnerability in exchange for another artwork, another identity. This said second artwork somehow resolves a physical and digital existence. One cannot exist without the other, and one proves the existence of the other—an unbreakable link.

Starting Wednesday, July 20th, 2022, the MARK exhibition will open on GALLERY's website. From there, anyone can see the entire collection and choose different assets to collect.


GALLERY
Figure31

Collection attributes table
Introduction to MARK's Roundtable
Collection